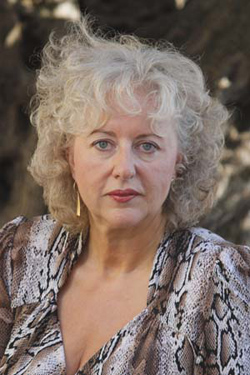 Hanover born Gabriele Maria Ronge is securely established as "one of the greatest Wagnerian sopranos of our time" (New Straits Times). She first studied linguistics and later voice with Nurit Gorén and Friedel Becker-Brill.
After an appearance in Anneliese Rothenberger´s TV show and two years on stage, Wolfgang Sawallisch offered her a contract with the Bavarian State Opera in Munich. This was the beginning of an important international career leading her to some of the world´s most important opera houses: Deutsche Oper and State Opera Berlin, Hamburg, Frankfurt, Cologne, Dresden, Vienna State Opera, Bregenz Festival, Salzburg, Zurich, Geneva, Paris National Opera, Marseille, Chorégies d´Orange, La Scala Milan, Torino, Bologna, Accademia Santa Cecilia and Opera Rome, Palermo, Catania, Venise, Trieste, Lisbon, Megaron Athens, Liège, Budapest Spring Festival, Tokyo, Taipei, Beijing, Mexico, Melbourne, Tel Aviv.
She sang roles like Brünnhilde, Isolde, Senta, Elsa, Sieglinde, Fidelio, Ariadne, Salome. Chrysothemis and Marschallin under the baton of Riccardo Muti, Lorin Maazel, Zubin Mehta, Bernard Haitink, Armin Jordan, Marek Janowski, Wolfgang Sawallisch, Michael Gielen, Horst Stein, Peter Schneider, Gerd Albrecht, Eliahu Inbal, Michel Plasson, Kazushi Ono, Ralf Weikert, Gary Bertini, Sebastian Weigle, Heinrich Hollreiser, Christian Badea, Zoltàn Pesko, Rafael Frühbeck de Burgos, Lothar Zagrosek, Stefan Soltesz…
Gabriele Maria Ronge recorded severals CDs: "Die Walküre" (Sieglinde), "Götterdämmerung" (Gutrune and 3rd. Norn), Brünnhilde´s immolation scene from "Götterdämmerung", "Die ersten Menschen" by Rudi Stephan, Krenek´s "Der Diktator", Zemlinsky´s "Der Traumgörge" and Gustav Mahler´s 2nd symphony.